2021 QP Lenten Schedule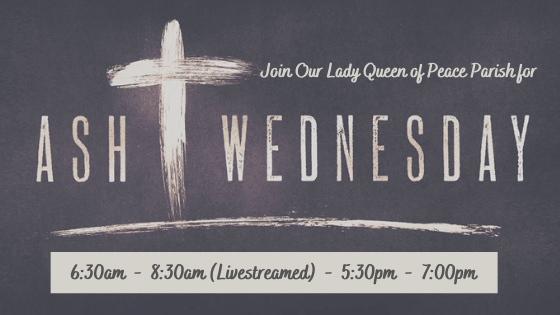 Ash Wednesday
Wednesday, February 17
Masses with distribution of ashes at 6:30 am, 8:30 am, 5:30 pm & 7:00 pm. All Masses on Ash Wednesday are in-person. The 8:30 am Mass on Ash Wednesday will be livestreamed. To participate, please visit: https://youtu.be/ZJvLOLkuCgY.

Eucharistic Adoration & Benediction
Tuesdays from 9:00 am to 7:00 pm (Rosary at 7pm)

Private Reconciliation
Thursdays at 5:00 pm (except during Holy Week)
There will be no Communal Reconciliation this year.

Stations & Soup
Stations of the Cross with Benediction (Wednesdays, February 24 – March 31 at 5:30pm):
Stations of the Cross are a powerful experience that can be meaningful to people of all ages including children. The prayer book Queen of Peace uses captures the last hours of Jesus life in a way that's personal and relatable, and the experience will give parents a lot to discuss with their children.
Soup to Go (Wednesdays, February 24 – March 24 following Stations):
After stations, you're cordially invited to join us in the Gathering Space to grab a bowl of soup, to go home with. The cost? A freewill offering to Project Operation Rice Bowl. We will be able to socially distance! This event is sponsored by the Respect Life Committee.

*A Virtual Stations of the Cross is also available here: https://www.youtube.com/watch?v=9qTCblQwX98.

Lectio Divina/Contemplative Prayer
(offered virtually only) Wednesdays during Lent at 7:00 pm
- Lectio Divina (using the readings for the coming weekend): Are you interested in pursuing a time of prayer and Scripture during Lent that focuses on scriptures for the coming weekend? Consider Lectio Divina, an opportunity to reflect on the weekly scriptures together. Sessions on Wednesday evenings at 7pm will being on February 24. If you are interested, email taheines@yahoo.com.
- Contemplative prayer: March 3, March 17 and March 31

Daily Mass
Monday-Friday at 8:30 am

Weekend Masses
Saturday at 5:00 pm
Sunday at 8:00, 9:30 & 11:15 am

Holy Week
Reservations are required for all in-person Good Friday and Easter Sunday Masses. Reservations are now open. Please click here.
For those who cannot attend in-person, the Holy Week liturgies will be live-streamed and a live-streamed Easter Sunday Mass will also be available at 11:15am.
Wednesday, March 31 - Stations of the Cross at 5:30 pm
Holy Thursday, April 1 - Mass of the Lord's Supper at 7:00 pm
Good Friday, April 2 - Good Friday Service at 12:30 pm
Holy Saturday, April 3 - Blessing of Food at 10:00 am & Easter Vigil at 7:26 pm
Easter Sunday, April 4 - Masses at 8:00 am, 9:30 am & 11:15 am (live-streamed)
Additional Resources and Opportunities:

- Once again, we are offering Lenten Reflection books from Word on Fire to accompany your 'Journey of Hope' this Lent. Books are available at no charge and will be available in the Gathering Space, until they are gone. All are welcome to one.

- Bible Studies for Lent and Beyond: We are beginning a small in-person group on Wednesdays at 4:00 pm during Lent to study No Greater Love, a Biblical Walk Through Christ's Passion by Dr. Edward Sri, author of 'A Biblical Walk Through the Mass'. Registration is required so that we can keep our numbers and our space safe. Following Easter, we will begin From Genesis to Jesus on 'how to read the Bible' Both are wonderful studies using the Word and video and Sacred Art and fabulous locations to deepen our faith. To register, please email Cheryl.

- Small Christian Communities: Are you interested in a study for your group for Lent? Contact Cheryl or Sarah to find out more about No Greater Love, a Biblical Walk Through Christ's Passion by Dr. Edward Sri, author of 'A Biblical Walk Through the Mass'. We will be ordering materials – soon, so make an appointment to check out a sample of the resources if you and your SCC are interested! If you don't currently belong to a Small Christian Community – and would like to – please contact Cheryl or Sarah at the Parish Center.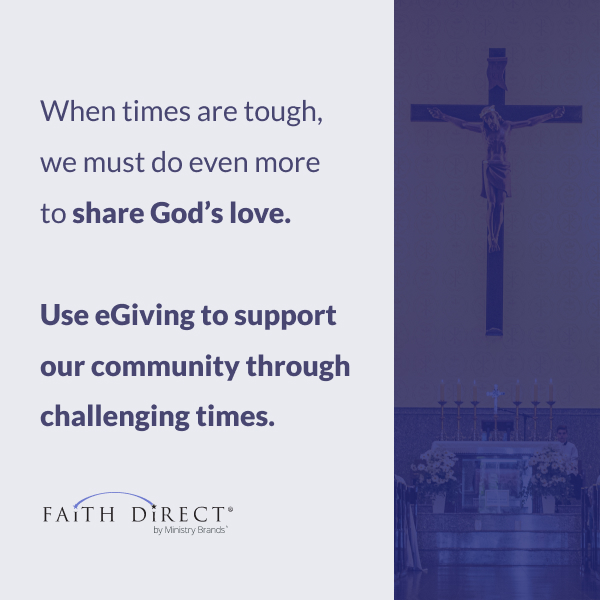 As the upheaval of COVID-19 continues, Lent takes on special meaning this year – a time for all Christians to renew our faith and show our thanks to God for the strength and blessings He bestows upon us, even in the most challenging times. Almsgiving is one way we can honor Christ's sacrifice while providing for our parish's work in the community to share the Gospel.
Please consider giving up offertory envelopes and making the switch to online giving through Faith Direct this Lenten Season.
Lenten Regulations:

1. Catholics who have celebrated their 14th birthday are to abstain from meat on Ash Wednesday, all Fridays during Lent, and Good Friday.

2. In addition to abstaining from meat, Catholics who have celebrated their 18th birthday, until they celebrate their 59th birthday, are to fast on Ash Wednesday and Good Friday. Those who are bound to this regulation may eat only one full meal. Two smaller meals are permitted if necessary to maintain strength according to ones needs, but eating solid foods between meals is not permitted.